VIEW PROFILE
| | |
| --- | --- |
| Name | Haji Md. Badrul Haque        |
| S/O | Md. Faijur Rahman  |
| Parmanent Address | Vill – Salmara , P/O –Salmara, Dist – Nagaon ( Assam ) Pin –782425 |
| Present Address | Vill – Telia Bebejia Pather , P/O – Fakali Pather, Dist – Nagaon ( Assam), Pin – 782124 |
| Mobile No. | 9854594014 |
| E-mail | |
| DOB | 31-01-1974 |
| Educational Qualification | M A |
| Professional Qualification | NET  |
| Current Designation | Assistant Professor   |
| Marital Status | Married |
| Caste | General |
| Religion | Islam  |
| Date of initial joining | 18-08-2000 |
| Date of Post Provincialized | 01-01-2013 |
| Total E- Contant | 11 |
| Act as a Resource Person in current year | 01 |
| Act as a External Evaluator | 07 |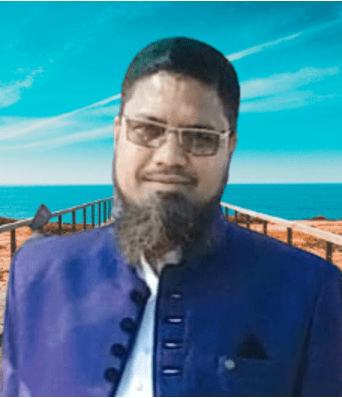 Academic Qualification :-
| | | | | | |
| --- | --- | --- | --- | --- | --- |
| Name of Examination | Name of the Board / University | Year of passing | Division/Class | Percentage | Subject |
| HSLC | SEBA | 1990 | 3rd | 37% | Assamese, English, Math, Science, Social Studies, Hindi, Advance Math |
| HS | AHSEC | 1993 | 2nd | 44% | Physics, Chemistry, Biology, Assamese, English, Math |
| B.A | GU | 1997 | 2nd | 57% | Assamese ( Major ) |
| M.A | GU | 1999 | 1st Class | 60% | Assamese |
Professional Qualification :- NET – June, 2012
ASC / HRDC Programe :-
| | | | | |
| --- | --- | --- | --- | --- |
| Sl No. | Duration | Name Of The Course | Place ASC / HRDC | Sponsoring Agency |
| 1 | 1st November to 5th December 2015 | OP | Jamia Millia Islamia University, New Delhi | UGC |
| 2 | 4th September to 24th September 2017 | RC | Gauhati University, Assam | UGC |
| 3 | 3rd September to 18th September 2020 | RC (Online) | Aligarh Muslim University, Aligarh | UGC |
| 4 | 28th December to 2nd January 2021 | FDP (Online) | Tezpur University, Assam | Ministry Of Education, India |
| 5 | 8th February to 13th February 2021 | STC (Online) | North-East Hill-University Shillong, Meghalaya | UGC |
| 6 | 6th September to 11th September 2021 | FDP (Online) | Rabindra Nath Tegore University, Hojai, Assam | UGC |
Details Of Seminar, Workshop & Publication: –
Sl No.

Date

Category

Topic / Article

Organized By

1

9th December 2015

Workshop

Role of Teacher in the Internal Quality Development of Degree College.

IQAC, Juria College, Nagaon: Assam

2

07-11-2017 to

13-11-2017

FDP (STC)

Behavioural Remodelling and Classroom Delivery Enhancement Techniques of Teachers

E & ICT Academy,IIT Guwahati at Rupahi College. Nagaon: Assam

3

22-05-2019

30-05-2019

Workshop

ICT in management of Education

Nagaon College, Nagaon (Assam)

4

19-06-2019

Workshop

UG-CBCS and NAAC Assessment and Accreditation

IQAC, Batadroba SSS College, Nagaon: (Assam )

5

25-11-2019

26-11-2019

Workshop

Revised NAAC process

Rupahi College, Nagaon (Assam)

6

3rd July 2020

Workshop

Legal Rights of Women and Children

Dhakuwakhana College

7

December 2016

Chapter Publication

Axomiya sanskriti jana prabojon aru char chaporir patabhumi,

Page; 21-27

"Sahitya sanskritir thupitora' – prothom prokas, sampadana -Pranjumoni Saikai

ISBN : 978-93-82569-46-6

8

September 2017

Chapter Publication

Samprotik axomiya Sahitya -bhasa -sanskriti aru lekhokhakol.

Page; 123-126

'Samakalin axomiya bhasa Sahitya aru sanskriti' – sampadana :- Jugal Chandra Sunuwal, Bijumoni Phukan

Prothom Prokas,

ISBN : 978-81-92955-64-3

9

13-08-2020

14-08-2020

Workshop

ICT based Pedagogy

Nagaon College

10

17-09-2021

18-09-2021

Workshop

Workshop RS & GIS Application in Bio-diversity conservation and Management.

Aligarh Muslim University. Organized by Deptt. Of Wild Life Science.

11

28th  Dec/20-2nd January 2021

FDP

Faculty Development Programme

TLC Tezpur University

12

27-06-2021

28-06-2021

  Seminar

 (National)

Antarip uponyasat nari manastatta ati awalukan

Organized by Department of Economics & English. Batadroba Sri Sri Sankardeva College. In collaboration with Internal Quality Assurance Cell (IQAC) Batadroba Sri Sri Sankardeva College. Nagaon.